Looking for a leather jacket? Our guide gives seven things to check when buying a leather jacket. Regardless of what you choose, always remember, real leather gives the best leather experience.
–
Genuine Leather Real Leather
When buying a leather jacket online, it is impossible to see or smell if it's real leather; therefore, check the description. It must say Real Leather, Genuine Leather or Suede Leather. Names such as Faux Leather and PU Leather are manmade leather.
Real leather keeps its shape, its beauty and its quality. Furthermore, it is strong standing the test of time and resisting dust mites and fungal attacks. Best of all real leather is always in style, wears comfortably and makes any outfit look great.
–
Types Leather Grain
Full Grain
The full grain layer contains Corium's top grain layer plus the upper layer of the split grain layer. It is the best grade because its grain is natural with no grain alteration and its fibers are very dense and strong. Full grain leather is more expensive because only the best hides can be used.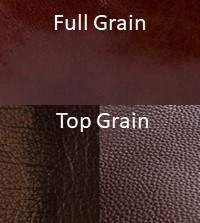 When aniline processing is used for full grain letter, it keeps all of the original marks and blemishes intact. If semi-aniline processing is used the leather is lightly pigmented to get rid of marks and blemishes. Actually full-grain semi-aniline is the most favored type of leather for luxury and high quality garments because it makes the leather easier to maintain.
When full grain leather is aniline dyed with an artificially worn and aged appearance in which the natural characteristics of the hide such as healed scars, scratches, and wrinkles are considered a positive characteristic, the leather is called Distressed Leather..
Top Grain
The top grain layer is the top layer of the full grain layer whose grain is altered or corrected because of imperfection and it is much thinner than full grain leather. It is still 100% real leather of good quality and strength but second best to full grain leather.
Suede
The split grain layer is the loose fibered course grained layer. It is commonly known as genuine leather or suede leather. It is the lowest grade of leather but is still 100% leather.
Bonded Leather (Not 100% Leather)
Sometimes bonded leather gets classified with real leather, but it is a mixture of leather shavings or small pieces and polyurethane. Thus it is not leather and does not have the exclusive characteristics of 100% real leather.
–
Types Of Leather For Jackets
Cowhide Leather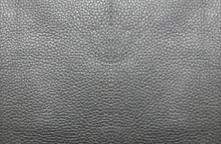 Cowhide full grain leather is the material of choice for motor cycle riders and those exposed to harsh weather conditions. It is extremely tough, thick and durable with a distinguishing grain.
Calf skin full grain leather is soft, firmer, fine grained and durable. Unlike cowhide it is more abrasion resistance which means its surface can't be worn away by rubbing or friction. It is also thinner, weighs less, and is used for more fashion conscious jackets. It is scratch sensitive; however scratches can be is easily restored by a leather specialist
Sheepskin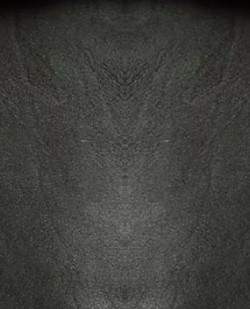 Sheepskin leather is particularly popular for cold weather jackets because its fleece is often left attached which adds a natural temperature regulator and moisture controller. It is much more elastic, rubbery, supple, softer in texture, and resistant to dirt, bugs and mold than cowhide.
Lambskin full grain leather is softer, weighs less, has a finer grain and conforms to the body better than calf skin. It is great for the fashion jacket.
Sheep or lamb skin that has been recently shorn, tanned and dressed with the wool left on.is known as Shearling.
Deer Skin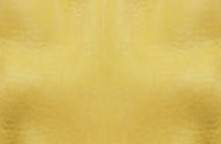 Deerskin leather is strong and durable like cowhide leather, however, it has an added touch of softness, a lighter feel, and a smoothness that makes any fashion jacket look sleek and rich as it contours to the body and grows even softer with wear.
Bison

Bison leather is a great alternative to cow leather especially fi the purpose for using it is strenuous and rugged. Bison is two or three times thicker than cow leather had has a more pronounced grain. It is very well suited for a motorcycle jacket where its function is utilitarian not fashion.
Horse Hide Leather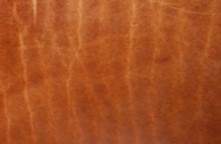 Horse hide is also considered an exotic leather. Horsehide is softer than bison but not as durable. Both bison and horsehide have a cracked or veined appearance that sets them apart from more common leathers.
Camel Leather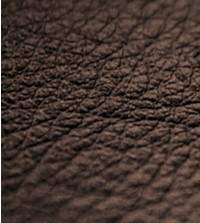 Camel leather is highly exotic, but is great for a fashion jacket because it has high character with a lovely grain, lovely patina, and soft temper. It is extremely durable, ages well, lightweight and 3 times to 10 times stronger than cow hide.
Suede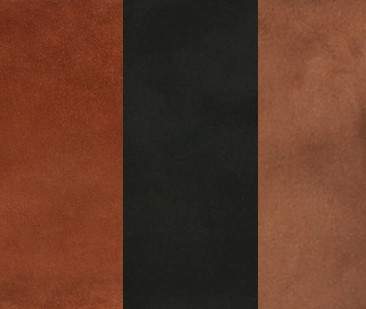 Suede leather is the lowest grade of leather coming from the bottom of the split leather; however it is prized for its lightness, softness and luxurious texture. It is considerably more durable than fabric they are not as durable as top grain and certainly not as durable as full grain leather.
–
What About Leather Waterproofing
Leather is not naturally water proof. It readily repels water, but too much water makes it become wet and change consistency. Therefore when the label states the jacket is waterproof, it means that it is made highly water-repellent through tanning and re-degreasing. Waterproof leather can contain up to 23% emulsified fats. If the label does not mention waterproof, it can be waterproofed after purchase using a beeswax cream for effectiveness.
–
Different Types Of Leather Jackets
Just as there are many types of leather used for leather jackets, there are many types of leather jackets used for various purposes. It is important to know the difference between them and decide which will meet your needs.
The most common types of leather jackets include motor cycle, bomber, biker, trench coat, blazer, flight, varsity, racer (Moto), classic, aviator, tactical inspired by military apparel, utility, car, and the Naval style Pea Coat.
Motorcycle Jackets Biker Jackets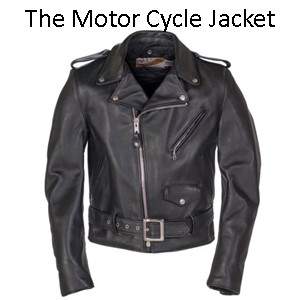 Motor cycle and biker jackets are made for riding a cycle in the elements. The most important features include full grain heavy, strong leather which handles abrasions well, ventilation options, impact protectors for shoulders and elbows, storm flaps inside and outside weather flaps to keep out the cold, many pockets because there are never enough, zip-out liner, knit or adjustable cuff closures, heavy duty fasteners and closures, soft collar and high visibility piping or stripes acting as reflectors.
Bomber Jacket Flight Jacket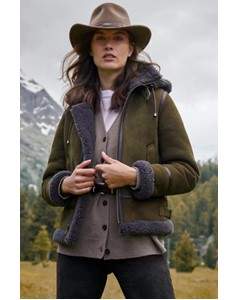 Bomber jackets, originally designed for Air Force pilots, are both functional and attractive; however, they are not for formal wear thus black is not recommended. Earth tone colors are most appropriate. Things to consider when buying a bomber leather jacket are the grade and hide of leather because cheap leather will wrinkle and show signs of wear quickly and cheap leather like suede will not withstand heavy use, the type of stitching especially for the zipper because only heavy stitching which show its imprint and will stand the test of time, the quality of leather that falls into itself at the shoulder rather than pull with arms extended, a YKK zipper which handles stress and resists getting caught, the lining because it adds insulation which is best found in synthetic fabrics, a flip up collar for cold weather to shut out the cold from entering, a length below the waist gives a good impression and also keeps the cold out, a a zip-out liner to make it more versatile.
Trench Coats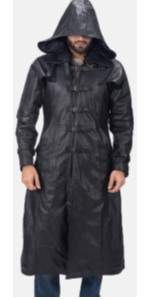 Trench coats, originating in the military, are versatile enough to be worn for informal or formal use. Things to consider when buying a leather trench coat are the existence of a double-breast for extra warmth and protection, a zip-out lining for weather changing weather conditions, the length: tall large builds should wear the coat below the knees and short statures should wear short coats, large collars provide added face protection, belts close the flow of cold air upward from the bottom of the coat, a back vent making it easier to walk or run, and large enough for wearing a sweater or suit coat underneath.
Varsity Leather Jacket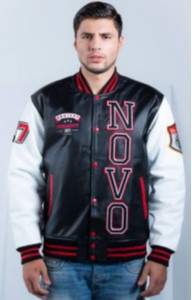 A varsity leather jacket shares the same structure as a bomber jacket, but has different coloring for the sleeves, button closure and strips on the collar cuffs wrist bands and waist band. These differences allow for sports teams and organizations to represent their color identification. Usually symbols are attached as well.
Classic Jacket Blazer Leather Jacket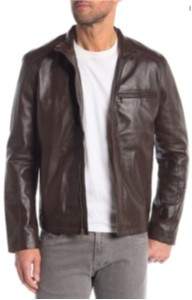 Classic leather jackets and blazer leather jackets are very similar in style; however they do have some differences. A blazer jackets are more formal and dressier, usually has larger lapels blazers usually have oily one fastener rather than a full length zipper or row of buttons. . Both jackets have equal warmth, longevity, color variations and a way to clean. It's the differences between them that give you choices to make when purchasing.
–
Other Jacket Design Features
Many times leather jackets and coats have other distinguishing features. They include the following: double seam stitching, decorative buttons, additional pocket zippers, shoulder and back waist belt tabs and other less notable items. Considering these features is important because they either make the jacket's appearance more or less formal.
–
How Should A Leather Jacket Fit?
The length and fit of your leather jacket is important to consider. Your personal preference is always most important; however, knowing the standard provides a guideline.
Jacket Girth
The fit of the jacket should be loose enough so you can fit hoodies, sweaters or whatever other garment you want to wear under it. Too snug of a jacket will cause stress on the closures and seams. Plus leather needs space to breathe. If the jacket is too loose, especially at the bottom, air will flow up as you move and cooler weather will be more uncomfortable. It you can give yourself a hug comfortably, the fit is good.
Shoulder Seams
Your shoulder seams should sit right on the curvature of the shoulder. Fallen seams look slouchy and pulled in seams make the sleeves pull up and hang funny.
Jacket Armholes
The armhole tells a lot about the tailor of a leather jacket. A perfect fit means the jacket has a good cut. Too big of an armhole will cause the shoulder seam to be misplaced and cause the jacket to look sloppy. A low armhole will cause the jacket to shift when the arms are raised or lowered. A high arm hole with cause clothing to rub under the arm pit.
Jacket Length
Two lengths need to be considered for leather jackets: the bottom length and the sleeve length. Both lengths depend on how the leather jacket will be used, what outfit it will be worn with and personal preference. Therefore, we present suggested length based on jacket type.
The recommended bottom length for a motor cycle jacket should rest at your waist. Anything longer bunches up at the waist, can be a safety hazard and gets in the way. Sleeve length should be about mid-palm when the arms are resting at your side.
A bomber jacket should be as long as your torso which means the bottom edge of its waistband is one to three inches below the belt line with the jacket closed. The sleeve should fall halfway up the back of your hand when your hands are by your side (somewhere around two inches).
A windbreaker jacket should be as long as your torso which is between two to three inches below the belt line. The sleeve length is good if it is one-fourth inch below the wrist when the arms are resting at your side.
The bottom length for a shearling jacket can be as long as you like for warmth; however it should be a least 2 inches below the belt line. Sleeve length should be about one-fourth inch below the wrist when the arms are resting at your side.
The bottom length of a trench coat can be as long as two inches from the ground for warmth; however the standard length is two inches above the knee. It is recommended you wear it no longer than mid-knee length. Sleeve length should extend two to three inches past your suit jacket cuff or sweater. The trench coat sleeves should fall into the bottom fold of your palm when the arms are resting at your side.
–
Size Chart For Leather Jackets
When selecting the right sized leather jacket, its crucial to use a size chart. Not all manufacturers provide a size chart. To remedy this situation, we provide a universal jacket size chart for men and women. The chart will help you buy the right sized leather jacket.
Men's Leather Jacket Size Chart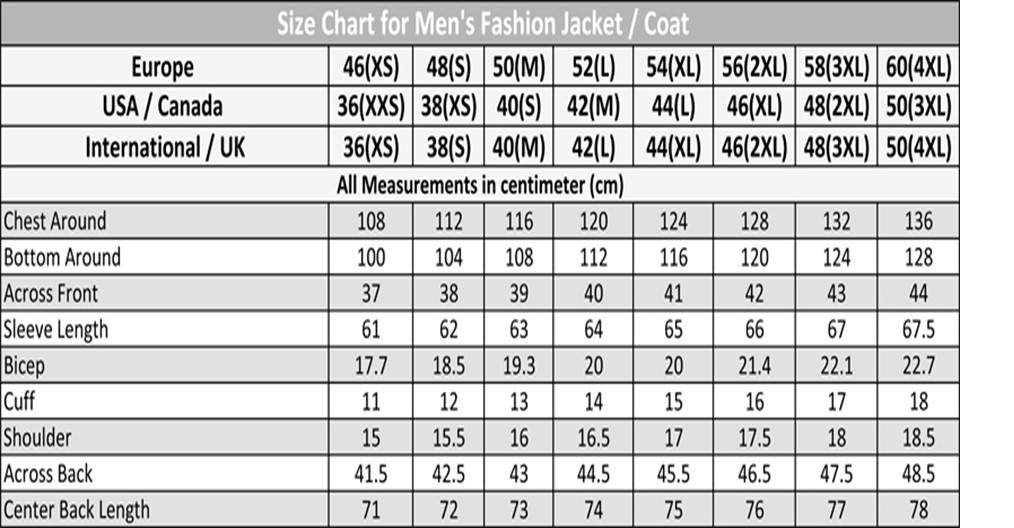 Women's Leather Jacket Size Chart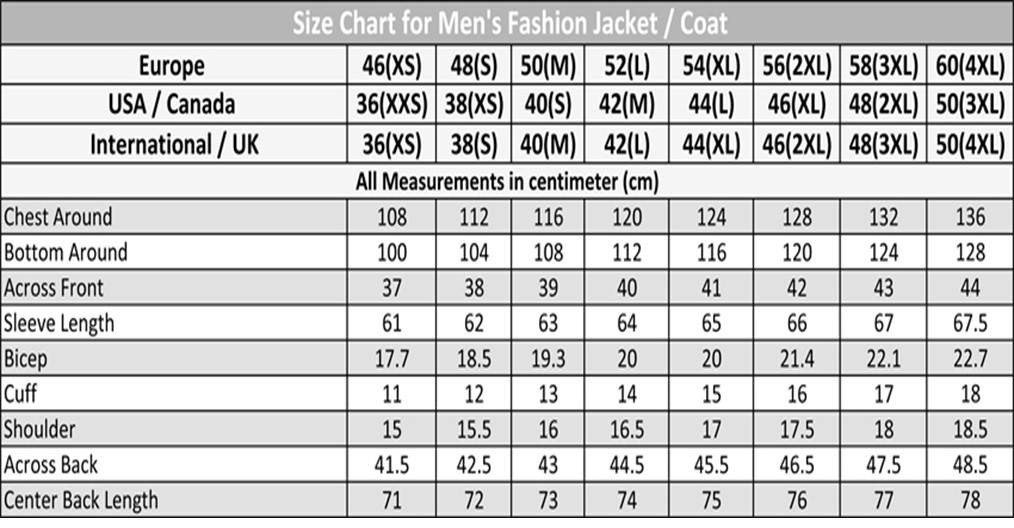 The following diagram shows where to measure for the shoulders, sleeve length, chest diameter and jacket length.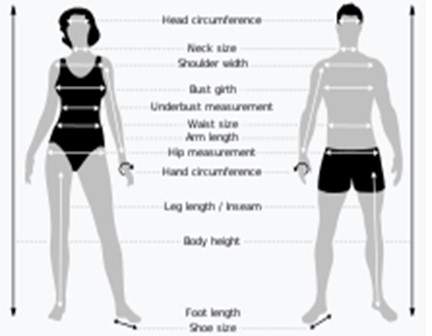 –
Leather Jacket Fasteners
Leather jacket fasteners open and close the jacket. The most common fasteners include snaps, buttons, zippers, buckles, toggles and magnets. We explain each leather fastener. Learn which leather jacket style uses which fastener most frequently and why.
Snaps
Leather jacket snaps are made from steel, brass or aluminum. Obviously brass is used on high end jackets and aluminum is used on cheaper leather jackets. A snap has two parts: a female and a male. The male part snaps onto the female. Snaps rarely fail. What does fail is their insertion or placement in the leather.
Snaps add aesthetic beauty especially when topped with embossing. But they are painstaking because each one must be snapped individually and they do not seal out the cold weather as well. Because high level activities place more stress on individual snaps they are not recommended as fasteners. Zippers more evenly distribute the pull.
Buttons
Buttons definitely add aesthetic beauty especially those with raised shapes. They also give a more vintage appearance. But they must be individually opened and closed and do not seal out the cold weather as well. They are not suited for high level activities because stress can break the threads that hold them in place. In comparison to other fasteners they can show more wear and tear especially around the button opening. They are commonly used by Overland Leathers for their sheepskin jackets.
Zippers
Zippers are definitely the most common type of leather jacket fastener. They are very easy to use, wear well and shut off all the cold air gaps. Zippers are most commonly made from plastic and metal but metal zippers cannot withstand horizontal pull. The two most notable zipper manufacturers are RiRi and YKK.
One thing to remember about zipper fasteners is that the more expensive the leather jacket, the better the quality of zipper used. YKK is noted for their nylon coil zippers and RiRi is noted for its metal zippers. Though both companies use both materials.
Buckles
Buckles are rarely used as leather jacket fastener. When they are used they are attached by leather welts and the buckles themselves are rich metal. They are not used on heavy level activity jackets. They definitely make a fashion statement. Tokyo James and Brooks Brothers use them frequently.
Toggle Buttons
Toggle closures are not used frequently; however they make a great fashion statement. They are so natural looking and feature two ends, one with a loop and the other end with a button or t-shaped piece that slips into the loop. Their design is not stable enough to use on high level activity jackets. Burberry, Brooks Brothers, and Overland.
Magnets
Magnetic closures are not used frequently; however they are an easy to use alternative to buttons if they are strong enough to hold the jacket closed. They are used on light weight fashion leather jackets designed by Matteo D'Arienzo.
–
Leather Jacket Pockets
Pockets are a very important part of leather jackets. They are located on the outside and inside of the jacket. The number of pockets varies from one to as many as eight. Outside pockets are leather; however inside pockets are usually made of polyester.
–
Leather Jacket Lining
Lining is a very important part of leather jackets. It protects the backside of the leather from body sweat, gives the jacket better shape, makes it feel smoother inside, and can act as another layer of warmth. The most common materials used for the lining include taffeta, cotton, poly-cotton, fleece, fake fur, wool blend, Sherpa fabric and Thinsulate. Learn about each material and why it is used.
Taffeta
Taffeta is a rich luxurious lining most commonly found in high end expensive leather jackets. It is man made from silk; however it can also be made from polyester, nylon, acetate, or other synthetic fibers. In its raw form it is breathable, water resistant, super strong, light weight and silky. When coated with a waterproofing substance and woven very tightly, it becomes waterproof. Silk taffeta must be dry cleaned; however synthetic fibered taffeta can be washed in cold water with gentle detergent. These characteristics make taffeta is a great lining for leather jackets.
Cotton
Cotton is a natural material made from the natural fibers of cotton plants. In its natural state it can impart a shiny finish and reduce wearing strain on the jacket. Next to the body it offers a warm and comfortable feeling and naturally protects against sweat. Cotton is known for its versatility, performance, natural comfort and strength. These factors make cotton a very good option for leather jacket lining.
Poly Cotton
Poly-cotton is a blend of Polyester and Cotton with 65% cotton usually. It is breathable, tear resistant, water repellant, and costs less and feels more comfortable than cotton. Like cotton, it can be washed on normal cycles and dried in a dryer.
Fleece
Fleece is a synthetic insulating fabric made from a type of polyester man-made material. It is highly breathable, lightweight, comfortable, warm, machine-washable, and quick drying. It is popular for jacket linings because it possesses anti-perspiration qualities which allow moisture to evaporate and block humidity from the outside. It's the way the threads are knit that gives it such a plush feeling.
Wool
Wool blend is an insulating fabric made from wool fibers and man-made material. It is highly breathable, lightweight, comfortable, and warm. Unlike 100% wool, it is machine washable in cold water ad will not shrink or change shape. Like wool, it possesses anti-perspiration qualities which allow moisture to evaporate and keeps outside humidity from entering.
Fake or Faux Fur
Fake or Faux fur is an engineered luxury synthetic material made to look like real fur. Unlike real fur it is not breathable and is not as insulating, but is certainly less expensive. Its degree of smoothness and softness depends on what synthetic materials are used. Polyester is one of the softest. It does not absorb body sweat quickly so dries quickly. It can be hand-washed or machine-washed on the delicate cycle with cold water and low spin. Faux fur is considered softer and warmer than Sherpa.
Sherpa
Sherpa is a soft, thick polyester material looking just like fleece from sheep skin, hence the name Sherpa. It is the most plush of the fleece types. It has two sides — one is a smooth knit and the other is a textured fleece look. It has many desirable characteristics such as denseness, fluffiness, non-bulkiness, and heat retention. It is warmer and fluffier than fleece. It is water repellent, breathable and effectively wicks away moisture, keeping you warm and dry. It can be hand-washed or machine-washed on the delicate cycle with cold water and low spin with no fabric softeners or bleach.
Thinsulate
Thinsulate is a fabric made from synthetic fibers woven together in various thicknesses to keep you warm at a range of temperatures. It is considered the warmest lining. When equal thicknesses are compared, it provides about 1½ times the warmth of down and about twice the warmth of other high-loft insulation materials. The fabric weave and weight determine its warmth. When made with hydrophobic fibers it achieves advanced water resistance. It is breathable and effectively wicks away moisture, keeping the body warm and dry. It can be machine-washed on the normal cycle with hot water to achieve the deepest clean.
–
The Best Leather Jacket Brands List
Once you've decided what the style of leather jacket, the type of leather desired, the size, type of fasteners and lining, it is time to think about which brands of leather jackets are best.
Here's our list of Best Leather jacket Brands.
Acne Studios
AllSaints
Anine Bing
Belstaff
Brunello Cucinelli
Buck Mason
Cole Hann
Dunhill
Everlane
French Connection
H & M
Independence Brothers
Justanned
Laer
Levi's
Lewis Leathers
Madewell
Overland
Reiss
Roadster
Saint Laurent
Schott NYC
Showoff.
Taylor Stitch
Teakwood Leathers
The Frye Company
The Jacket Maker
Theory
Tom Ford
Tommy Hilfiger
Universal Standard
US Polo Assn
Veda
Wilsons Leather
Wrangler
–
–
What Determines How To Shop For Your Best Leather Jacket?
The above information provides the details about leather jackets, their grains, where the leather comes from, and their tailored features. Now you have an opportunity to apply the information to your jacket shopping needs. Ask yourself the following questions to find the very best leather jacket for your leather needs.
✓ Know the occasion for wearing
✓ Understand your style preferences (length, fasteners, collar and front styling, number of pockets
✓ Know your body: what looks good and what size
✓ Determine your price point
We like to read your comments. Did we miss something you would like to know more about? We would love to hear what you have to say. You can leave your comments below. Thanks for taking the time to share your thoughts.
–
Shop Leather Jackets
Men and Women's Leather Jacket Collections To Be Added Soon.