Learn How To Buy Sandals Perfect For Almost Any Occasion. Dress For Class, Fashion And Comfort With Our Large Selection Of Styles, Colors And Brands.
Ask the right questions and have the right information so you can buy and wear the sandals that meet your footwear needs.
What Are Sandals?
In its simplest form sandals are shoes which consist of a sole held to the foot by one or more straps which may go over the instep which is the top portion of the foot between the toes and ankles, around the ankle or between two toes.
Sandal Wear Pros Cons
Pros: Keep the feet cool. Some styles look very dressy.  Foot bed may have built in support.
Cons: Most styles provide safety to the bottom of the foot but very little to the upper portion of the foot. Some styles provide very little support and thus cause foot problems such as blisters, bacteria, viral infections, bad posture, shooting pains, bunion exacerbation and formation!, hammertoe issues, and back problems because of poor support.
Sandal Styles
Designers find sandals to be the most intriguing shoe to design. So many design options are available because the foot bed can have many strap configurations.
New style names keep appearing and there seems to be very little distinction between looks. This causes buyer confusion; therefore the best way to buy sandals it is to decide where the straps should be located and how many straps should be present,
The following description of sandal styles is provided to inform you, the buyer, of sandal style options and to clarify style terminology. Knowing the terminology makes it much easier to search online for the sandals you wish to buy.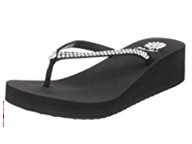 Thongs
Thongs have a sole held loosely on the foot by a Y-shaped strap known as a thong that passes between the first and second toe and to the bottom of the insole. Often the term thong and flip flop is used interchangeably; however we define a thongs as something with more style and made of material other than rubber or plastic
Flip Flops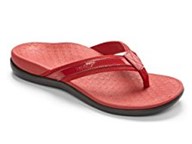 Like thongs they have a Y-shaped strap known as a thong that passes between the big and next toe and down both sides to the sole. Many times designers use the term thongs and flip flops interchangeably. We define flip flops as flat sandals made of plastic or rubber substance. They are something worn most commonly in area where water is present such as a public pool area, shower room or such places.
T-Straps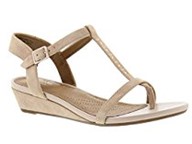 The T-strap has straps which join to form a T shape. Some are like the thong and flip flop because they have a thong that passes between the big and second toe and an additional strap that comes straight up the middle of the top of the foot and is joined by another strap which connects to the sole and thong strap forming the T.  Others have a strap across the front of the foot and a strap that forms around the heel with a center strap forming the T.
U-Shaped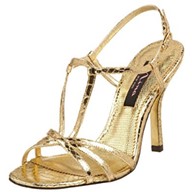 The U-shaped are like the thongs and flip flops. They have a thong which passes through the first and second toe; however this thong makes a u-shape on the top of the foot as it is joined by another strap which connects to a strap at the mid-sole. The mid-sole strap is connected to a heel stop which prevent the sandal from making the flip flop sound when walking.
Gladiators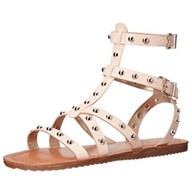 Gladiators have either a thong between the first and second toe or a strap across the toe area coming from the sole with many more straps which surround the foot and the heel area.  The height of the heel straps varies all of the way from the lower heel to the ankle, knee and even the thigh.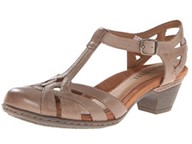 Fisherman
The Fisherman are a style where the toes are enclosed by one or more leather bands interwoven with a central length-wise strap that lies on top of the foot. The sandal is held in place with an adjustable cross strap fastened with a buckle or gripping Velcro. The heel may or may not be fully enclosed.
Slide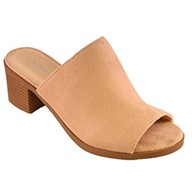 Slides are open-toed and backless which makes them easy to slide on and off the foot.  The sandal has single or multiple straps that run across the center top part of the shoe to hold it on. There is no thong.
Sling Backs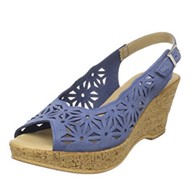 Sling backs are known for a strap that crosses behind the heel or ankle. They also have a wide or several straps crossing the toe area. Many heel types and heights exist.
Hiking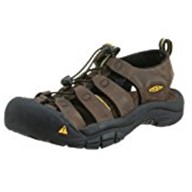 The Hiking style is designed for hiking or trekking. Their out sole is a robust rubber to protect the foot from rocks, debris and other such terrain. The insole is made of a softer or Super EVA for comfort. The soles are is usually shaped to support the arched contour of the foot. The straps are usually made of polyester or nylon webbing for quick drying and reduced perspiration.
Huaraches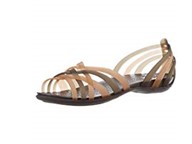 Huaraches are a traditional sandal from Mexico typically made from hand-worked leather. Generally they have several narrow strips of leather used with reminds one of weaving.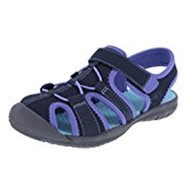 Bump Toe
Bump toes are closed toed; therefore the toes will be protected by the bump. Bump toes are particularly popular with summer workers needing toe protection.
Jelly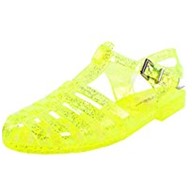 The Jelly is made of PVC plastic. The PVC material is frequently infused with glitter. The PVC is semi-transparent with a jelly-like sheen. They are  easy to clean.
J-slips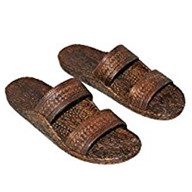 J-slips are a  darker coloration of jandal. The slip-on is known for its weave-pattern straps.  The J-slips are believed to come from an importer or manufacturer in the 1950s, who re-named the Japanese Sandals to Jandals.
Bohemian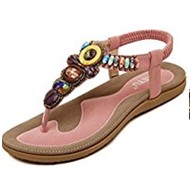 Bohemians may be thongs or slides; however they are highly decorated with beads, buckles, or fringe. They make a great fashion statement.
Pom Pom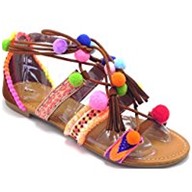 These are slides or thongs highly decorated with colorful pom poms. The style encourages one to wear them to an outdoor festival or similar activity.
Toe Ring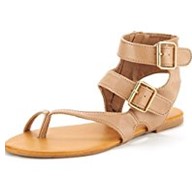 Toe rings are designed with a leather ring in the toe area of the sandal for the big toe to slip through. They may be shaped like a T or crisscross on the top of the foot. Many strap on  using a buckle.
Ancient Greek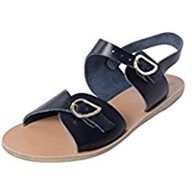 Ancient Greek sandals are handmade in Greece by skilled craftsmen using traditional techniques that have existed for centuries. The chemical free, natural tan leather ages beautifully with time and wear.
Floral Print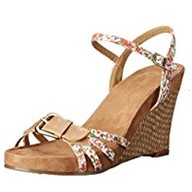 The Floral prints may be any type of sandal such as thong, slide, Gladiator, T-strap,  sling,  high-heeled with a printed floral design on the straps. The print pattern is great for spring and summer wear.
Platforms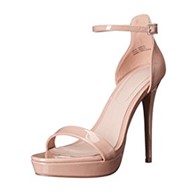 Platforms are a sandal with an obvious thick sole, usually in the range of 3–10 cm (1–4 inches) high with many sandal styles such as angle strap, slip on, thong, and high heels. Many times the platform is made of cork, wood or EVA. Platform sandals may be worn for casual activities as well as dress up occasions.
Wedge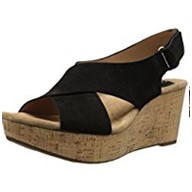 The Wedge, originally designed in Greece,  is a shoe with a sole in the form of a wedge, such that one piece of material, normally rubber, serves as both the sole and the heel.  Styles may include tongs, ankle strapped, T-shaped, a strap on the heal, slip-on. buckle and more.
Stacked Heel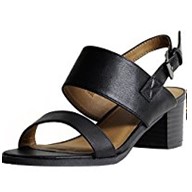 Stacked heels are shoes with built heels giving the illusion of thin layers of wood or other materials that have been stacked up to create the heel. The styles vary by ankle, sling, slide-on, T-strap and others.
Chunky Heel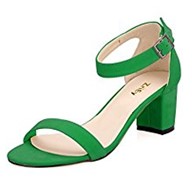 Chunky heels are shoes with heels that are widest at the top directly under the foot and decrease slightly where the heel comes in contact with the ground.  These heels are often called block heels and generally range in a heel height of 2.5 inches to 4 inches.
High Heel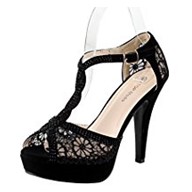 High Heels are shoes with heights varying from a kitten heel of 1.5 inches (3.8 cm) to a stiletto heel (or spike heel) of 5 inches (13 cm) or more. Those heels higher than 6 inches (15 cm) are considered extremely high-heel and are not practical are worn only aesthetic reasons.  Styles may include ankle strap, T-strap, Gladiators and more.
Sandals Special Occasions
The Occasion
✓ Thongs, flip flops, and slide-ons are easy to wear at the beach or in conditions where the shoe will become filled with sand or dirt easily. They can be easily taken off and the irritating materials removed.
✓ Hiking ones are excellent for hot weather hiking. They protect the feet as well as feel very comfortable
✓ Flat, platform and wedge heels are comfortable to wear for casual occasions during warm weather.
✓ Bump toes are excellent for children since they seem to pump their toes a lot even during normal activities.
✓ Platform, wedge and high-heels are an excellent choice for special occasions. They show off the foot and legs.
Regardless of the occasion, sandals are easy to wear or easy to carry and easy to care for because they weigh less and do not get scuffed up as much.
Many platform, wedge, high-heeled, Gladiator and floral printed sandals make a fashion statement. Matching the color with an outfit will turn heads.
The Noise
Thongs, flip flogs, slides and toe rings are nosiest because they do not have a strap to hold them to the foot.
Generally the foot will remain secure in a heel strap or ankle strap.
The Height
Flat heels are best worn to disguise your height.  Some amusement parks limit rides for specific heights.
Obviously platform, wedge, stacked and high heels are great if you are short and need to see over the crowd or look older.
Sandals Feet Problems
Do you have any of the following foot problems?
✓ Is your skin sensitive between your toes? Thongs and toe rings will irritate it.
✓ Do you need foot support? Flip-flops, thongs, T-shaped and U-shaped provide no ankle support.
✓ Are your toes or toe nails ugly? How about going for a pedicure? Sling backs and wedges offer more close toed sandals.
✓ Is your arch sensitive? Heel height makes a big difference in how the body structure shifts. Some height can be good because flat sandals provide no arch support.
✓ Does the soft tissue near the back of your heel become irritated easily? Sling back sandals will only irritate it more.
✓ Do you have a hammertoe? Any style of sandal will be ok except for the thong, toe ring, T-strap, U-shaped and any sandal that has straps close to the toes.
✓ Do you have wide feet? Generally sandals are more flexible than regular shoes so will fit and feel better.
✓ Do you have flat feet? Thongs, toe-ring, T-shaped thong and U-shaped thong do not offer arch support. Other sandal styles have support depending upon the designer and manufacturer.
✓ Do you have back pain? Sandals off little support; however if you wish to wear them, platform shoes are your best choice because they evenly add height both to the entire foot length.
✓ Do your feet get sweaty easily? Sandals offer natural foot breathe ability.
✓ Do you easily feel your legs go numb when tying something around them above the ankle? Gladiator sandals are not the best choice for good blood circulation and undamaged nerves.
How To Care For Sandals
Many thongs, flip flops and hiking sandals can be washed.
Synthetic materials look nice and are easy to care for; however, eventually the synthetic material will scuff, become dry and brittle with no way to fix it.
Genuine leather hold up well. Applying a waterproof spray will protect against dirt and moisture. Leather cream from a tube restores and moisturizes leather. After a half hour when the leather is polished with a soft cloth, it will look like new and last a long time. Nubuck and suede leather can be cleaned when dry and brushed to keep the appearance fresh looking. Patent leather require the use of a cleaning cloth and special non-greased liquid sprays to keep them clean.
Popular Sandals Brands
Popular brands include Tera, Pali Hawaii, Birkenstock, Vionic, Sanuk, Keen, Clarks, Havalanas, Skechers, Blowfish, Crocs, Reef, Nike, Alpine Swiss, Deam Pairs, Steve Madden, Adidas, Nine West, Naturalizer,  Bamboo, Sam Edelman, Allegra, Dansko,  Anne Klein,  and Ivanka Trump.
How To Buy Sandals Online
Six Steps To Buying Sandals Online
Know your shoe size? What shoe size do you normally wear?
Look for a sandal size chart. Good online websites provide a size chart. The measurement is usually the distance between the ends of the toe to the end of the heel.
Look for a "fit as expected" calculator. The calculation is based on the size of sandal you normally wear with the size you would otherwise wear and your normal shoe width.
Check for the Customer Reviews Which Include "Fit As Expected" Ratings. Purchasers are eager to help other customers know how the sandal fits on their feet. They indicate if the shoe runs true to size, if it is narrow or wide and flexible.
Read the "FAQ" section. Most sellers provide answers to the size question.
Check if the online site offers free return shipping.
Buy sandals online because it works. It saves time and also provides many more styles, colors and varieties.
Conclusion: Find the perfect sandal by knowing the various styles available, your taste, the occasion for wear, the material desired and care required, the heel height, the number and location of straps, the degree of ornamentation and the best size for your feet.
Keep Your Feet Cool. Wear Sandals. Look Stylish!
Shop Our Perfect Sandal Styles