Learn What Top Grain Leather Is And Why It Is Grade B. Understand How Tanning Affects The Top Grain Leather Look So You Can Make The Best Leather Grade Choice.
What Is Top Grain Leather?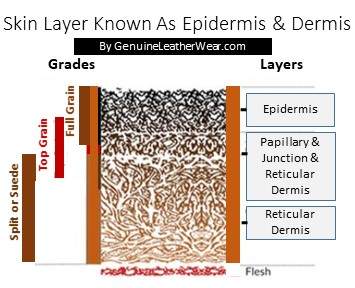 Top Grain leather is a sanded or buffed grade of leather. When leather has too many imperfections to be used in its natural grain state, its natural grain surface is altered. The alteration results in a Grade B leather known as top grain leather.
Why Is Top Grain Leather Grade B?
Here are some reasons why Top Grain leather is known as Grade B.
✓ The original surface grain has been altered; the natural grain is not present
✓ Its thickness is less than full grain
✓ Sanding or buffing the leather weakens its strength and durability
✓ The natural marbling, texture and variety of color in the hide are no longer present to come through fully
✓ A natural patina will not develop as it ages
✓The sanding and finishes give it extra stain resistance
Though Top Grain Leather is Grade B, it is still a very high quality of real leather. It still has a leather look.
What Does Top Grain Leather Look Like?
The following terms give names to finishes and surfaces used on top grain leather. The following terms describe how the original top grain surface is altered and given a new grain leather like look.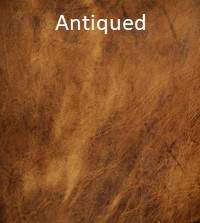 Antiqued or Distressed Leather
is given a surface pattern of creases where the hollows have been given a contrasting color to achieve a two tone effect that resembles the natural aging of leather.
Brushed is a surface abrasion to create a velvet-like nap on the grain surface.
Corrected Leather is buffed or sanded on the grain surface in order to remove (correct) marks or imperfections.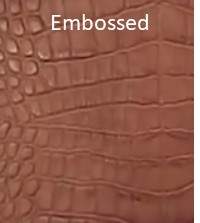 Embossed Leather
is sanded or buffed first; then an embossed raised pattern is stamped. This gives it a different look and feel from the natural grain state. Embossing is particularly popular for replicating the look of crocodile and alligator leather.
Enhanced Leather is slightly buffed to remove imperfections and then embossed with an attractive grain pattern to resemble the original grain of the animal from which it came.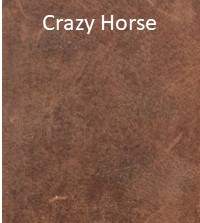 Crazy Horse Leather
is buffed and then has special waxes applied. The buffing with wax gives it a matte finish with the characteristic pull up (color changes where stressed) effect.
Degrained Leather has the natural grain removed.
Grain Embossed is a surface where the original grain is sanded away and an artificial grain that resembles the original grain is pressed or embossed into its surface.
Grained Leather is a leather where the original grain has been changed or altered.
Morocco Leather
is vegetable tanned goat skin which in its original grain is known as Full Grain but with the original grain altered is known as Top Grain.
Nubuck Leather, also known as Snuffed Leather, Grain Suede, or Sueding is where the grain surface is buffed to create a velvety outer surface. Because it is from the top part of the leather it is stronger and more durable than suede from the flesh side which has a similar look and feel though suede fibers are more course.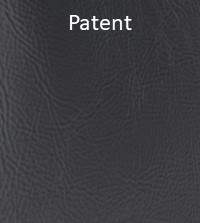 Patent Leather
is coated with a heavy black lacquer, almost like enamel paint. This coating is so shiny that it is best for formal wear such as dinner parties and dances.
Pebbled Leather is made by sanding away imperfections and stamping an artificial new pebble like look on its surface.
Printed Leather bears a surface pattern which is not the original grain but created by embossing.
Waxy Leather is finished with waxy oils adding layers.
Leather Tanning Process
Both the vegetable tanning and chromium tanning process can be used for Top Grain leather. Vegetable tanning is the most natural process because it uses vegetable tannins such as bark (from quebracho, oak or mimosa) or fruit (tara) extracts. Vegetable tanning takes several weeks because there are so many steps.
Chromium tanning uses mineral or synthetic tanning agents known as salts of metals such as aluminum, chromium, and zirconium. The chemical tanning process, though harsh on the environment, causes the leather to be very soft, pliable and a little more water resistant than vegetable tanning. This process is much faster.
Cleaning Top Grain Leather
Good Top Grain leather products require little care. A few household cleaners such as mild hand or dish soap or a mixture of two parts linseed oil and one part white vinegar can be used. There are also many good leather conditioners on the market which are excellent cleaners and conditioners.
Regardless of the cleaner or conditioner chosen, always test it out first on an inconspicuous place.
What Kinds Of Leather Products Use Top Grain?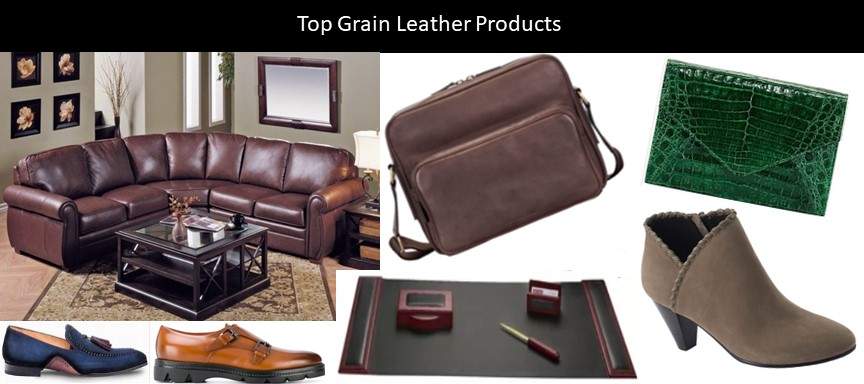 Top Grain leather is used frequently for furniture seating, shoes, boots, clothing such as jackets, shirts, skirts, bags of many shapes and sizes, luggage, office accessories, wearable accessories and much more.
Top Grain is very popular both of garment wear and accessories worn and used.
So is there a real difference between Top Grain and Full Grain leather?
Top Grain Leather vs Full Grain Leather
There are some similarities, but several differences between Top Grain and Full Grain. Let's see how Top Grain leather compares to Full Grain leather.
The Grain – Full Grain is the original grain. Top Grain has been altered by sanding, buffing or some other process.
The Durability – The leather fibers of Full Grain have not been damaged; however sanding and buffing do weaken the fibers of Top Grain.
Aging – Full Grain leather increases in patina as it ages giving it the real beauty to natural leather.
Availability – Obtaining Full Grain leather from mature animals is limited because many imperfections are incurred during an animals lifetime. For this reason younger animals are used for Full Grain.  Those leather pieces rejected as Full Grain can be used as Top Grain by sanding or buffing away the imperfections.
Cost –  From a cost perspective, Full Grain is more costly than Top Grain; however because additional surface finishes are added to Top Grain it may be just as expensive. When it comes to Full Grain from reptiles, the cost difference is great because reptiles are known as exotics.
The Look – The Full Grain look is dependent upon the natural grain look.  If embossing or a uniformed grain look is more desirable, Top Grain is the way to go.
The Feel –  Full Grain leather has a better natural grain feel. The surface has been altered on Top Grain leather.
The Smell –  Vegetable Tanned Full Grain leather has the best leather smell with no chemical or grain alterations.  Top Grain is real leather; however, the surface processing may decrease the real leather smell.
Moisture Resistance – The fibers are most closely woven in  Full Grain leather; therefore it is able to better resist moisture naturally. Adding protective coatings to Top Grain increases its moisture resistant.
Breathable –  Full Grain leather remains the most breathable.
Conclusion
Top Grain Leather is real leather. It is a Grade B Leather because the original grain has been altered to some extent. It is not as thick as Full Grain leather, but it is still stronger than Split Leather, also known as Suede.
Top Grain embossing offers many stylistic options. If a uniform grain is desired, if a more pronounced grain is sought or a exotic leather is desired but not affordable, Top Grain is the best choice.
Decide what kind of leather look, smell, feel and price point is best for you. If Top Grain leather is your choice, enjoy it. It is real genuine leather!
Shop Top Grain Leather Products