Before you buy your next piece of furniture find out why genuine leather furniture is highly valued. And do remember just because the word 'leather' appears on the furniture label it does not mean the furniture is made from genuine leather.
The following will help you be a smart leather shopper.
What is genuine leather furniture?
Labels found on furniture with the following terms are not genuine leather: bonded, faux, synthetic, leather-match or bi-cast leather.
Genuine leather is animal hide or skin that has been tanned for use as leather. The three grades of genuine leather are full grain, top grain, and split.
Full grain, the strongest, most expensive grade, retains the original grain of the hide. It is the highest quality for leather sofas. The aniline or semi-aniline tanning process is used to preserve the original grain. This tanning process requires minimal processing and keeps the hide softer. Not all full grain hides can be used as full grain leather because there may be too many blemishes. If natural blemishes must be corrected, the leather grade becomes top grain.
Top grain, the second highest grade and less expensive than full grain, has the hides original grain blemishes corrected by polishing, sanding or stamping a new grain. Hides coming from animals in the hotter climates (southern hemisphere) tend to have more blemishes. Top grade leather is typically tanned using chemicals and paint. Since this grade of leather requires more tanning it is not as soft as full grain; however with the use of chemicals and a top finish it is strong durable leather good for furniture that receives a lot of high activity such as recreational room or office furniture.
Split is the cheapest and weakest grade of genuine leather. This layer of hide is thickest and weakest. It has no natural grain. Since this layer is reduced in thickness to be used for upholstered furniture and since it is highly processed, it does not have the strength of full and top grain; therefore it is used for the sides and back of leather furniture. This grade is also painted and stamped with a grain that resembles top grain.
What are the advantages of genuine leather furniture?
Genuine leather has the following characteristics:
Is strong. It will not tear, or wear a hole. Full grain is the strongest grade. The split grade is weakest, but still more durable than man made materials.
Demonstrates flexibility yet does not loose its shape. It does not sag or stretch out of shape. It stretches however does not show stretch marks.
Will not show damage from household pets. The entire depth of a full grain hide is treated; therefore it looks the same through the entire depth of the leather. Scuffing or scratching will not cause exposure of a different color beyond the very top of the leather.
Ages beautifully. The older a full grain leather sofa is, the more naturally beautiful it becomes. Leather furniture acquires a patina, a soft sheen to the leather from age and use.
Cleans easily. Only a damp warm cloth with mild soap is needed to clean off dirt. High quality full grain leather absorbs stains quickly into the surface of the leather and a stain become completely invisible.
Resistant to fire and emits no toxic fumes, even when exposed to intense heat.
Breaths and adapts to temperature changes. Leather is natural not a man made textile; therefore it adjusts to body temperature. It is permeable to moisture vapor and retains its flexibility at very low temperatures.
Will not crack and peel over time because of natural oils and tanning treatment for full and top grain leather.
Comfortable since it stretches and molds to the natural curves of the body still retaining its shape.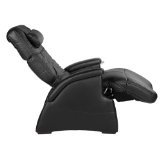 How to plan when shopping for genuine leather furniture?
Make sure your budget allows for the expense of genuine leather. Genuine leather is not cheap.
Decide where you want to place your new furniture.
Check the dimensions of the pieces of furniture you are thinking of buying. Make a proto type from newspaper of the size of the furniture by length and width. Place the proto type on the floor where you are thinking of placing the furniture. Decide if the size is right for your room.
If you have existing furniture, compare the new furniture size to the old. Use some empty boxes to represent the size of the new furniture. Decide if the size will be right for your room.
Check the width of doorways or stairways to determine how easily the new piece of furniture can be moved in.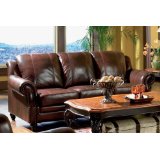 Know what style you like (vintage, modern, formal, or informal) since genuine leather lasts much longer than other materials and won't require replacement for several years.
Decide what color of leather fits with the floor covering, door and window frames, window treatments and other accessories you wish to use.
Determine the degree and type of usage your new furniture will have. Recreational couches will get much heavier rough usage than a living room sofa. Full grain leather is more suited to living room furniture. Top grain leather is more suited to recreation room furniture.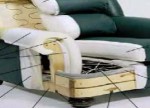 Read about the furniture construction. Find out how the frame is built, how much padding is used, and what kinds of materials are used for the construction.

Kiln-dried hardwood frames ensure strength without cracking and warping.
Corner blocks add stability.
Tempered steel springs with triple cross wires offer support and lifetime wear. Rubber-webbing inner support will provide years of wear; however it is not as durable as steel.
High quality fiber fill and polyurethane foam provide good back support.
Cushions for sitting made from high-density polyurethane foam wrapped in DuPont Dacron polyester will provide years of wear.
Genuine leather furniture is a favorite for many. There are many styles available. See which is best for your leather needs.
Italian Genuine Leather Furniture
Other Genuine Leather Furniture