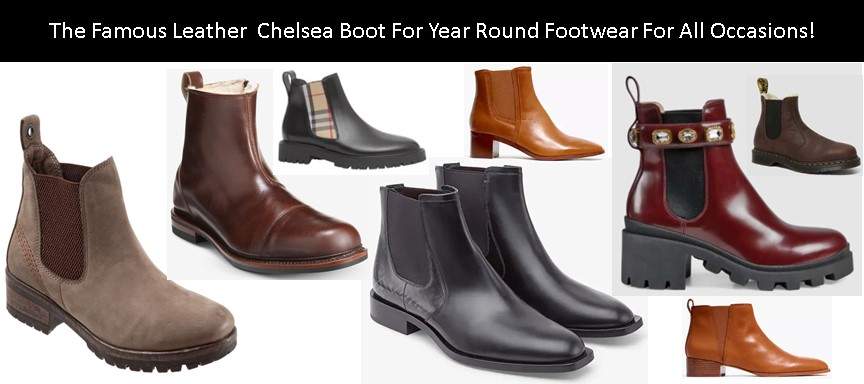 Buying Chelsea Boots Online Is A Big Deal. Learn The Material And Parts For Best Fit, Comfort and Wear.  Use Our Guide To Buy Your Chelsea Boots Online.
Buying Chelsea boots online means you cannot see or try them on first. This does not mean you cannot buy the best Chelsea boots online however. We explain important things to watch for when buying them.
–
Chelsea Boot Differences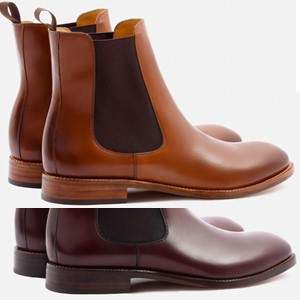 All Chelsea boots have the same basic shape, but they have many factors making them different. Learn what the differences are.
✓ The uppers are made of leather. The most common leather used is full grain, some top grain. suede and some nubuck. Each leather type gives a different appearance, wears differently and requires different cleaning. Some leathers used come from Italy, some from Columbia, Some from the Unites States and various other locations. Even the finish on the leather is different. Some are vegetable oil tanned, others are chrome tanned. Some are water resistant and others are water proof.
✓ The linings vary. The most common linings are mesh, fabric and real leather.
✓ The process used in attaching the sole to the uppers varies. The way the upper and sole are attached makes a difference in appearance and longevity. Those that are hot glued will not last as long but have no visible stitching. Those that are stitched together show the stitching, but they can be resoled and worn much longer,
✓ Some have layers of soft cushioning innersoles for long standing comfort. Others have a small amount of cushioning and a re not made for hours of standing.
✓ The sole of some Chelsea boots are made of leather; others are made of rubber and still others are made of manmade material. Some have no tread while others are heavily treaded for winter weather. Some have a flat heel and others have a stacked heel.
All of these variations need to be considered when buying a Chelsea boot. Keep reading for more details.
–
What Is A Chelsea Boot?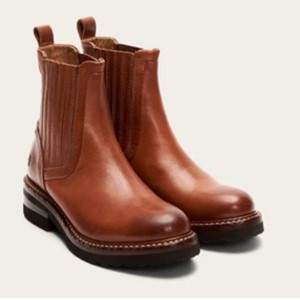 Chelsea boots date back to the Victorian Era; however they gained immense popularity during fifties and sixties with the affluent and trendy area of London called Chelsea.
They are known as timeless footwear because their style is adaptable as a work boot and a semi-formal boot. They are loved by all because their characteristics are both masculine and feminine.
Their characteristics are very distinguishable: close fitting, ankle-high, round toe, low heel boots with an elastic side panel. There are no laces to tie or straps to buckle. They are the perfect choice for busy people who want to jump into their boots in seconds and kick them off quick for relaxation.
Because they are ankle height, they are often confused with their less formal alternatives: the Desert Boot and the Chukka Boot. The Desert boot is much lighter in weight and the shaft is floppy. Chukka boots have a soft bendy sole material.
–
How To Wear A Chelsea Boot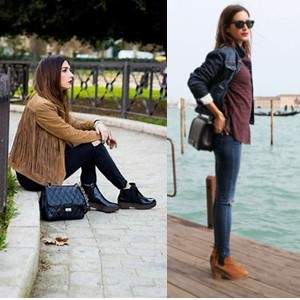 Chelsea boots are unique because they can be worn to either dress up or dress down any attire. They can be worn with jeans, a sweater, a business suit or even a tuxedo. A chic look is most dashing when the boots are made of suede while a sleek urban look is achieved when the boots are made of black leather.
Knee socks with ankle boots create a long silhouette, especially if you match the color of the sock to the boot. Trouser socks paired with a Chelsea gives a trim and professional look.
Wearing jeans with these boots is very much in style. There are basically three styles: cuff the jeans, pull the jeans leg over the top of the boot or wear a length that comes just to the top of the boot.
–
Chelsea Boots Style
The style of the Chelsea is simple. The shape is very plain without all kinds of stitching, curves and embellishments. There are no laces. They are pulled on with a loop or tab of fabric on the back.
There simplicity gives them a style that stays in style. Boot height favorites change yearly, but the ankle height remains the classic height.
Along with style comes the question of color. The most favorite colors are brown, black and burgundy. Brown is favored because it can be fashionable as formal and casual in the office or at a party. Black always gives the formal look for white color office attire or cocktail attire. Burgundy is an all year round color option. Gray suede also gives the appearance of class, especially when worn with gray slacks and a charcoal coat.
–
Chelsea Boot Sizing
The Chelsea boot is made to fit the foot snuggly without rubbing the side of the foot or pushing against the toes. The toe box should be large enough for the toes to stretch out. Any flexibility needed comes from the side panels not the in step. If they are too large they will make a suction sound when walking and you will feel the suction. If they are too small the feet will feel squashed and they will actually hurt. The widest part of the foot should be aligned with the widest part of the boot. If the alignment is off either a longer or wider boot is needed.
The boots run true to size. Buy the size you wear for other shoe types. There should be no gap between the boot and the ankle. It should be snug fit. The size is too big if there is a gap.
Keep in mind the elastic in the side panels will relax after years of wear. Therefore initially there should be a small amount of resistance as the elastic sides stretch to allow your feet into the boots. If the boot is too big when new, the panels cannot be shrunk. Only the leather or suede can be shrunk some by placing a damp cloth on it. Socks with the necessary thickness can also be worn. If none of these solutions work, try wearing non-slip socks, or placing pads in the heel.
If the boots feel too tight initially and are not returnable, the elastic panels will relax and feel looser as they age. Boot stretchers also work.
–
Can You Wear Chelsea Boots In The Summer?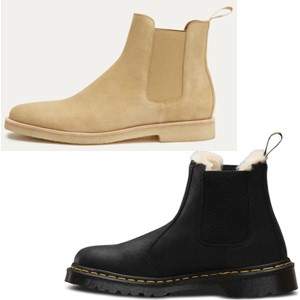 Chelsea boots are made of leather. Leather breathes and can be worn in the summer. The key to wearing leather Chelsea boot in the summer is buying a pair with lining that wicks and wearing socks that also wick. Synthetic fabrics such as polyester, nylon and acrylic are excellent at moisture wicking. These fabrics actually absorb a small amount of moisture into the core of their fibers, but then wick the majority of the moisture out through small openings within the fabric.
Spring and fall weather pose no problem. The question of temperature also surfaces for cold weather wear. To combat cold temperatures some manufacturers line their Chelsea boots with Sherpa and fake fur.
–
Winter weather is posing less of a threat to the wearing of Chelsea boots outdoors because leather can be waterproofed and many brands are using soft rubber soles which grip and tract on snow and ice.
–
–
How To Take Care Of Leather Boots
Chelsea boots are an investment that is worth preserving. One way to preserve them is to clean them periodically. Since their uppers are made of leather, full grain, top grain and suede, there is certain protocol to follow.
How to Maintain Chelsea Boots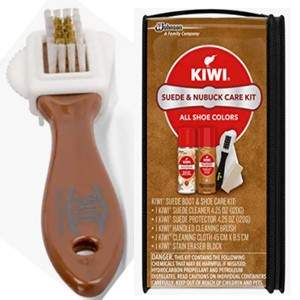 Full Grain and Top Grain leather can be cleaned of dirt periodically with a damp cloth. Salt water is hard on leather because it leaves a whitish film. Such film should be removed gently with a damp cloth.
Suede leather dirt particles can be removed with a soft brush as well. Even a soft bristled tooth brush works well. A stiff brush will ruin the nap.
After cleaning leather it is important to re moisturize it because its cleaned pores are prone to dirt clogging. Otter or bees was, leather shoe oil or salve protect the open pores very well
Over time leather loses its moisture; therefore it is important re-moisturize it. Moisturizing products include bees and otter wax, leather oils and salve made especially for leather.
If the sole is attached using the Goodyear welt, the Blake stitch or the Triple welt, it can be re soled which lengths the investments longevity.
Can Suede Get Wet?
Leather can get wet, that is it resists water, but is not waterproof. Therefore both full grain, top grain and suede can get wet without damaging the leather. This does not mean that the boots can be submersed in water for a long period of time. It means that they can be worn when it rains or snows. It is possible that the boots may shrink a little bit after getting wet but using heat to dry them will cause major shrinking.
If suede gets wet it is important to let it dry slowly. When the soft, delicate hairs get wet, they will tense up and become brittle, making rip susceptible. Once the suede dries it will become more firm but the shoe is not ruined. That being side, it is best to keep them dry at all times.
How To Fix Wet Suede
After a wet suede boot is almost dry, a soft bristled brush can be used to raise the nap. If the brush is too stiff, it can damage the nap and make it shiny. Water stains can be removed using a clean, dry eraser rubbing lightly on the stain. Just make sure the eraser is clean before starting.
Full grain and top grain leather can get wet but are also affected by too much water. Leather contains oils and tannins. When they are exposed to water they bind to the water molecules so when the leather dries some of the natural oils are lost and some of the leather's supple qualities are lost. After the leather is almost dry, use a damp rag to remove stains.
–
What To Waterproof Leather Boots With
Leather is naturally water resistant but not water proof; therefore, waterproofing Chelsea boots for outdoor wear is a good way to keep them looking nice for a long time.
The most common forms of ingredients used to waterproof leather are oil, spray, wax and salve. The best form to use is based on the leather grain type. Most sprays contain silicone which tends to dry leather out. Oils are typically noted for darkening leather. Some say certain kinds of wav can also cause leather to dry out. All natural salve is being marketed as the best for waterproofing and conditioning leather boots. Some do-it-yourselfers have tried Vaseline but it is not a long term solution.
–
The Best Chelsea Boot Brands
A
Acquatila Fallan
Allen Edmonds
Aqua Loren
Ariat
Acne Studios
Aldo
Alexander Wong
Aqua Loren
Aquatalia
Alberto Fasciani
Alexander McQueen
Ash
B
Banbury
Blundstone
Beckett Simonson
Born
Bogs
Blondo
Bueno
Bottega Veneta
Brantford
Brunello Cucinelli
Burberry
C – D
Cole Haan
Chaco
Cinve Camuto
Charles & Keith
Chooka
Churchs
Clarks
Comme des Garcons
Dansko
Dear Frances
Dr Martens
DSQUARED2
Dries Van Noten
Diemme
E – K
Eva
Eastland
Everlane
Eytys
Fendi
Ganni
Genta
Gianvito Rossi
Gibson
Gucci
Hensley
Hogan
Huckberry
Hunter
Jenni Kayne
Jill Sander
Joules
JW Anderson
Karnik
Kenneth Cole
L – M
L L Beam
Labucq
Loewe
Loeffler Randall
Loq Ottavia
Lucchese
Lugz
Lychese
Madewell
Marc Jacobs
Marsell
Matisse
Meta Porter
Me Too
MIA
Michael Kors
Michele Lopriore
MIZ Moos
Mr. Porter
Mytheresa
N – R
Naot
Naturalizer
Naturino
Nisolo
Pajar CANADA
Paul Smith
Pikolinos
Prada
Rage & Bone
Rebecca Minkoff
Red Wing
Report
R.M. Williams
Roan
Rocket Dog
Rockport
S
Saint Bernard
Scaroso
Sakoots
SeaVees
Sebago
Seychelles
Shoe The Bear
Sketchers
Sofft
Softwalk
Sophia Webster
SOREL
Sperry
Stacy Adams
Steve Madden
Steven New York
Stratu
Stuart Weitzman
T
Tecovas
Ted Baker
Teva
The Frye Company
Tibi Diego
Timberland
Thomas & Vine
Thursday Boot Company
Toms
To Boot New York
Tony Blanco
Tony Burch
Tretorn
U – Z
UGG
Vagabond Shoemakers
Vance
Vionic
Vince
Vince Camuto
Walk London
Woverine
–
How To Buy Chelsea Boots
✓ Determine the kind of leather used for the boot uppers.
The most common leather used is full grain, top grain and suede.
✓ Determine if the boots will be worn indoors or outdoors and for what weather season.
Outdoor boots should be waterproofed. Choose the lining based on outdoor temperature. Look for a treaded sole for cold weather climates.
✓ Decide if you want a boot that can be re soled.
Goodyear welt and Blake stitching soles can be re soled.
✓ Know your size.
Read more detail on how to know your size.
✓ Know your price point.
Conclusion:
Chelsea boots are a great footwear addition to any wardrobe. They can be worn for formal occasions or casual occasions. Plus they will always be in style. Each year more helpful features are added. Recently a tread sole was added to improve their wear ability in cold weather climates.
Chelsea boots are very durable when they are made of real leather. Genuine leather is definitely a durable material that allows the foot to breathe. Plus its texture makes it easy to care for.
Do you own a pair of Chelsea boots? If you do, we would like to hear which brand and style is your favorite. We also would like to know why it is your favorite.
We like to read your comments. We would love to hear what you have to say. You can leave your comments below. Thanks for taking the time to share your thoughts.
–
Shop Chelsea Leather Boots
Men and Women's Leather Chelsea Boot Collections To Be Added Soon.