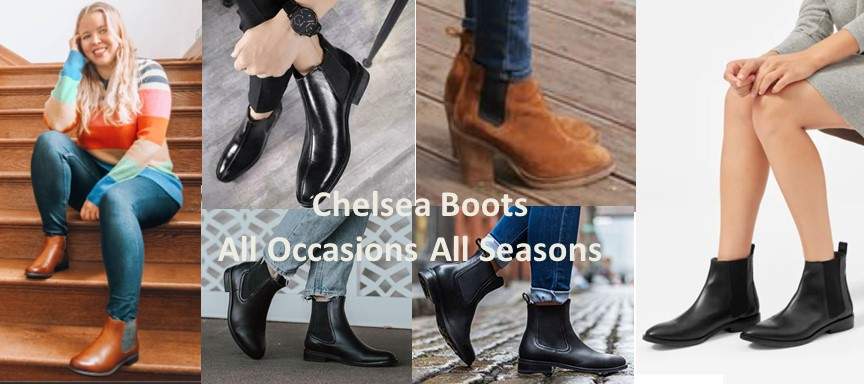 Learn How To Wear Chelsea Boots. Chelsea Boot Features and Styles Determine How To Wear Them, When To Wear Them And With What Attire. Be Stylish! Look Smart!
Of course we all want to be comfortable, fashionable and investment smart. All of that is possible with the Chelsea Boot. It is an iconic style created and known as the J. Sparkes-Hall's Patent Elastic Ankle Boots dating back to the 1800's. It adopted a new name in the 1950s and '60s when it became associated with wears from Chelsea. Today the name remains and so does the boot with its traditional ankle height, full enclosed upper with no laces and a pull tab in the back for easy slip on and off. When a boot style lasts that long, it is here to stay; therefore these boots are a good wardrobe investment worth building around.
The wearing appropriateness of Chelsea Boots is dependent on three factors: the boot features, ones fashion attire and the weather. Each of these topics is discussed in detail below.
–
The Boot Features
How to wear Chelsea Boots is dependent upon the following boot features: leather type, color, heel height, lining, sole, stitching, pull tab,
and cushioning. Each of these features and their wearing appropriateness is discussed below.
–
Leather Type
Leather is the most natural material of all that remains stylish, beautiful, protective and comfortable. As it ages it grows in patina; its surface is cleanable; its strength adds protection and it is naturally water resistant and breathable.
Leather offers variation due to different animal hide thickness and grain. Full grain leather is most commonly used for boots exposed to high level activity wear and weather elements. Suede and Nubuck are used most commonly for Chelsea boot fashion worn indoors.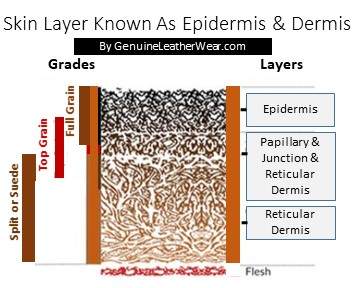 Full grain leather is found just below the hide hair which is the grain and includes the grain corium junction. There are two types of full grain leather: one with the grain in its natural unaltered state and the other in its blemish corrected state. Unaltered full grain has a much higher price point and retains its full strength. Corrected full grain has a lower price point and its leather is weakened somewhat.
Full grain leather left in its natural state is the most elegant and always appropriate for formal and semi-formal events. The beauty of full grain leather comes from the grain pattern, the patina and the finish coating added after tanning which gives it a high protection cover. The most common hides used for full grain leather include calfskin, goatskin, deer skin, cowhide, bison, buffalo hide, camel, kangaroo, and horse hide.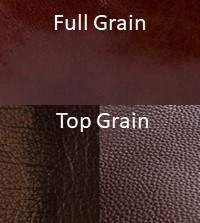 Top grain leather is the leather layer below the surface of full grain and includes a small portion of the corium. Top grain leather becomes necessary when the full grain surface has too many blemishes and needs a new surface layer. When the original surface is altered, the price point is lowered; the patina is reduced; and its strength is weakened.
Nubuck is full grain leather sanded to create a napped finish. It has a very fine close weave with tiny little hairs invisible to the naked eye. It is very soft and velvety looking. Because it is full grain leather, it has a higher price point than suede. . The most common hides used for Nubuck leather include calfskin, goatskin, lambskin, and deer skin.
Suede is located under the full grain and top grain hide layer. It has no grain which gives it a lower price point, less strength and a softer shaggier look. The older the animal the shaggier suede looks. Therefore calf skin and goat skin are less shaggy than cow leather and deer skin.
When it comes to Chelsea boot wearing etiquette, full grain leather in its natural grain state is appropriate for very formal occasions as well as semi-formal and office suit wear. Corrected grain can be appropriate as formal wear as well as long as the finish has a high profile. Nubuck is certainly appropriate for less formal occasions while suede is definitely for casual occasions. Wearing suede Chelsea boots with jeans is the norm.
–
Color
Color is important to consider for two parts of the boot: the upper and the heel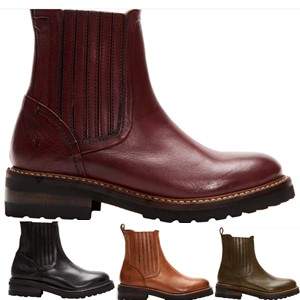 The most popular upper leather colors are brown, tan, black, and burgundy. Black is definitely for formal wear; however as fashion has changed black can be worn anytime. Brown can be worn for semi-formal, business suits and casual wear. Burgundy and tan are most appropriate for informal wear. The latest color is white which is formal and casual. Any other colors such as navy blue, green and pink are most appropriate for casual wear.
The most popular formal heel colors are brown and black. Casual soles are often made of synthetic materials and are colored white and light tan making them very visible to the point that they stand out.
–
Heel Height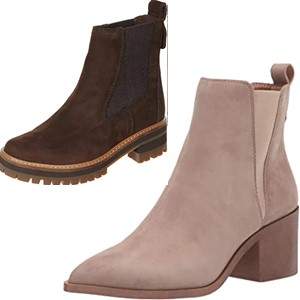 The standard heel height is around one inch more or less, the same height as a street shoe. Recently new heel heights are being added such as 2.76 inches (7cm) and stacked heels which come as high as 3 ½ inches and platform heels which are as high as 5 inches. The higher heels are chunky looking and only appropriate for casual wear; however for fashion forward styling, anything goes.
–
Sole
In bygone days it was believed that Chelsea boots are only for indoor or good weather wear; however today some brands use tread for snow and ice grip. The lug sole is popular and very effective.
–
Stitching
Stitching is most noticeable when the Goodyear Welt and Blake Stitching are used to attach the upper boot part to the sole. This type of stitching is very common on high-end Chelsea boots because they can be re soled because the sole will wear out before the leather. Because some wearers prefer not to see visible stitching, they buy the sole hot glued boots.
Pull Tab
Chelsea boots are easy to slip on because they have a leather or fabric pull tab. Pull tabs are either made with a leather pull tab or a colored fabric pull tab. A leather pull tab looks formal and a fabric pull tab adds color. Though all Chelsea boots have an elastic side panel some have an additional front or side zipper for easier pull on and snugger fit.
Cushioning
Chelsea boot construction continues to improve foot comfort. Some brands use a leather foot bed which allows the foot shape to create fitting indentations. Other brands rely on highly effective man made material cushioning. Even some brands use an insole insert which encourages the wearer to buy another one later that is customized specifically for their foot comfort. Some also use special cushioning in the heel. Regardless of comfort need, it is possible to find a very comfortable pair.
Lining
Leather lining is great because it is durable and allows air flow and foot moisture evaporation although it does add a little weight.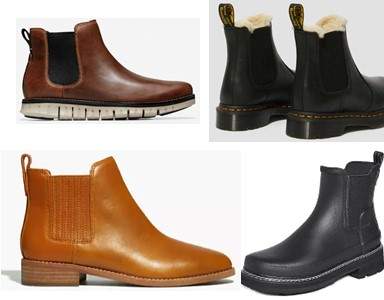 Cotton is a light weight lining made from natural fibers so it is breathable and extremely comfortable against the skin as it wicks moisture well.
Viscose is a regenerated cellulosic fiber extracted from wood and has a silky sheen. It makes for a great lining because it is cool in the summer and warm in the winter.
Textile linings are commonly used for less expensive boots. These linings quick to absorb moisture and slower to dry out, which leads to sweaty feet and smelly shoes.
Cambrelle is a woven breathable synthetic fiber with a structure that is highly capable of wicking moisture away from the foot to keep it dry.
Synthetic fabric made from PVC is not breathable and can be also be uncomfortable to feet.
Synthetic fur is an insulator so work well for boots worn in cold weather climates. It is breathable thus making a way for moisture to escape from the foot and avoid chafing and overheating.
Fleece is a favorite lining because of its comfort and warmth. It also has the feature of breathability.
Shearling lining is found in Chelsea boots that use the suede part of sheep skin on the outside. It makes a great lining for cold weather because of its insulation capabilities, its comfort and softness. This lining is ideal for cold weather climates.
Even though the style of Chelsea boots is much defined, the number of features described above makes it possible to choose a pair that fits your attire and weather conditions. We will help you choose the appropriate combination.
–
What To Wear With Chelsea Boots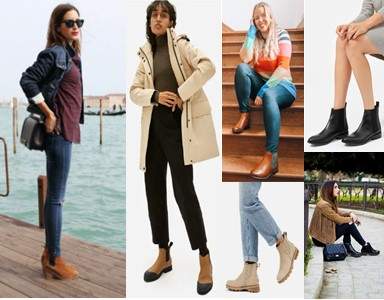 What to wear with Chelsea Boots is a very common question with many answers. The bottom line is: the new fashion forward movement says they can be worn with any outfit.
Some of us are more traditional. So what can a traditionalist wear Chelsea boots with? Check our tips below.
✓ Color coordination is always key to a sharp looking outfit.
✓ Slim jeans look so perfect with Chelsea boots when their length stops at the boot top. Your legs are on display and so are your boots. Wearing the leg over the boot hides its beauty.
✓ Regular jeans can be roll cuffed over the boot or hang over the boot top.
✓ For a very formal look, a black suit looks good with black boots. The finer the grain looks the better.
✓ A semi-formal look can be achieved with a gray suit and gray boots. Charcoal gray boots also look attractive.
✓ For office attire, a brown suit or dress pants always looks nice with a brown grain full grain boot.
✓ Women can easily wear colored Chelsea boots to match the color of their dress or dress pants.
✓ Chunky heel Chelsea boots give a casual look so are very fitting with a short skirt or a pair of jeans.
✓ White and tan boots are for summer wear. Some brides even choose to wear white Chelsea boots.
✓ Black Chelsea boots always give a formal look if they are low heeled.
✓ Brown and burgundy colored boots are a great choice for fall and winter.
✓ Leggings go well with any pair of Chelsea boots and type of heel. Just be sure the socks peak out above your boots. Leggings should not bunch; cuffing looks more appropriate.
–
–
All Weather Chelsea Boots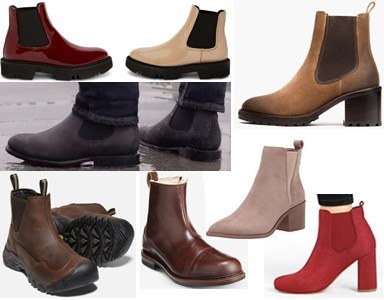 Chelsea boots come in many colors, finishes and tread types. This means they are made for all seasons and weather conditions. The key is buying the right one.
✓ Light colored boots such as white, tan and pink are best for spring and summer.
✓ Darker colored boots such as brown, burgundy, and black are best for fall and winter.
✓ Lambskin, calfskin and goatskin feel more comfortable in the summer because they are thin and light weight.
✓ Thicker leather such as cow, bison and horse are comfortable in colder weather; however lambskin feels warm with a shearling lining.
✓ Leather is water resistant but not water proof; therefore it is not meant to be worn for lengthy periods of time in rain or snow. When water proofed it is a very appropriate.
✓ Treads for slip resistance are now added to many brands of Chelsea boots wearable in ice and snow. Even heels are threaded to provide traction.
–
By now you have probably concluded the manufacturers are designing Chelsea boots so they can be worn year round with any attire.
Conclusion
Chelsea boots are a great addition to any wardrobe because of the following reasons.
✓ They are timeless. They have been around since the 1800's. As their demand for wear increases so do their features.
✓ Leather is always in style and can be worn for any occasion for any weather condition. Chelsea boots look formal when made from high end full grain black leather. They look casual when made of suede colored leather.
✓ Wearing your favorite is always in style of you promote the fashion forward look.
✓ Designers and manufacturers continue to add more features for comfort and weather adaptability.
–
We Like To Read Your Comments
Did we miss something you would like to know more about? We would love to hear what you have to say. You can leave your comments below. Thanks for taking the time to share your thoughts.
–
Shop Chelsea Leather Boots
Men and Women's Leather Chelsea Boot Collections To Be Added Soon.